There are many kinds of raw materials of recarburizer, and the production process is also different. There are wood carbon, coal carbon, coke, graphite, etc., among which there are many small categories under various classification. High quality recarburizer generally refers to the graphitization of the recarburizer, under high temperature conditions, the arrangement of carbon atoms is the microscopic form of graphite, so it is called graphitization.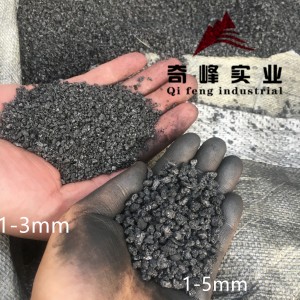 Semi Coke is made from high quality anthracite coal,under a high temperature(1300℃) process, which are widely used for calcium carbide,ferroalloys manufacture or non-ferrous metals smelting,manufacture or other related metallurgical industries,because of its special physical and chemical characteristics:high fixed carbon content,low sulfur and low phosphorus r content.
Specs: Fixed Carbon:98%, Ash:1.2, Volatile matter:1, sulfur:0.3,size:0-1mm, 1-3mm, 1-5mm
High-purity graphitized petroleum coke is made from high quality petroleum coke under a temperature of 2,500-3,500°C. As a high-purity carbon material, it has characteristics of high fixed carbon content, low sulfur, low ash, low porosity etc.It can be used as carbon raiser (Recarburizer) to produce high quality steel,cast iron and alloy.It can also be used in plastic and rubber as an additive.
Graphite electrode powder is an accessory of graphite electrode, with ultra-high carbon content and ultra-low sulfur content, can be used as carburizer in iron and steel smelting, is a kind of high quality carburizer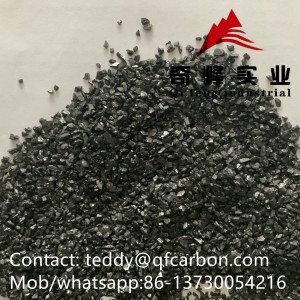 Calcined Anthracite Coal is frequently used as a recarburiser in ladle and blast furnaces in steel mills, and in producing carbon blocks and tamping paste. It is also used to replace calcinedoil coke in specific applications in the production of ductile and grey irons.
We are Handan Qifeng Carbon Co.,Ltd. an manufacturer of graphite electrode, graphite electrode pieces, calcined petroleum coke,  many kind of recarburizer, We support our purchasers with ideal premium quality products and substantial level company.
Any more information for our products please be free to contact : teddy@qfcarbon.com Mob/whatsapp: 86-13730054216
---
Post time: Mar-29-2021